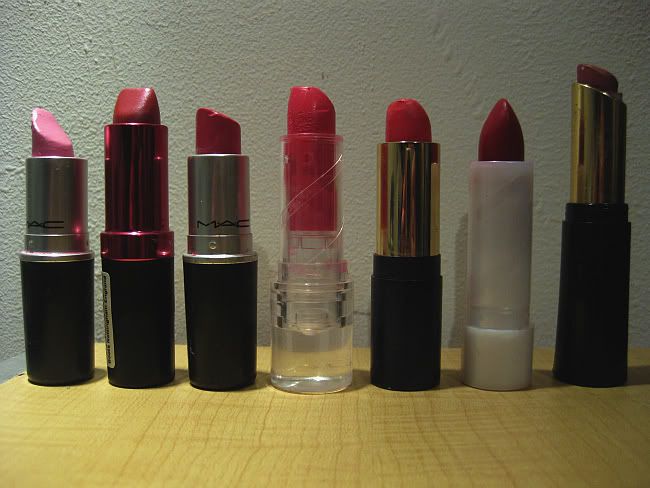 (L-R) MAC St Germain / 17 Dusky Pink / MAC Lustering / Models Own Deep Fushia /
Dainty Doll 003 / Natural Collection Cherry Red / No7 Stay Perfect 55
Oh if I showed my whole lipstick / lip gloss collection again we would be here forever. These posts however are making me condense my make-up down. I am actually throwing old make-up away!
My favourites are first
Dainty Doll's 003 Lipstick
. The range is obviously suited to pale skin lovelies like Nicola Roberts, oh and me. It is such a lovely colour against my skin and is a wonderful lasting lipstick.
Models Own Deep Fushia
is a new one, I bought on the recommendation of
Claire
and
Hollie
and love the colour. The two
MAC Lipsticks
are no brainers. I really need to increase my MAC collection however I am now POOR. Actually beyond poor. Lastly
Elf's Matte Lip Color
goes on wonderfully and is cheap.
Zoey xox