This is part one of a few ELF reviews I have lined up. I no longer have Photoshop and apparently you can't resize photos in Picasa and then got confused by GIMP. I am now currently having to email my photos to my Photobucket account as I can't upload anything. OMG. Breathe. But excuses excuses. Every time there is a 50% code for ELF I end up ordering myself a little stash - receiving the little brown boxes are a wonderful treat after ridiculous work days. Just got in from a 10am-3am work day.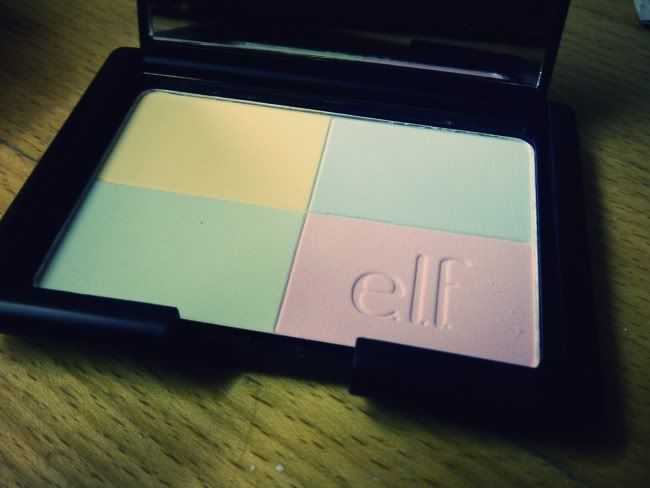 First up is the Complexion Perfection. As with all the
Studio Range
the packaging is wonderful, a nice big mirror and the wonderful sleek black. The product itself looks slightly daunting to start with, but for someone like me who has pale skin that is prone to redness it is perfect. It has replaced using pressed powder and is perfect for touch ups on a night out. However it is on the pale side when applied to the face, this is fine for pasty me but when my sister played with it her fake tanned face didn't fair so well.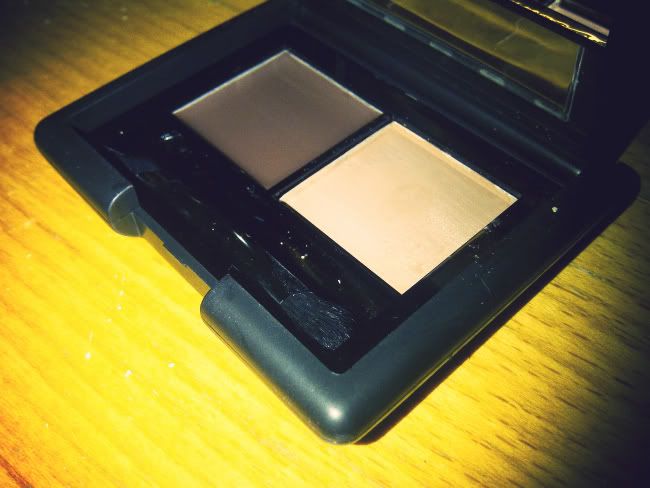 Second is the Eyebrow Kit. Now I have dark hair naturally, dyed to a reddy brown but have light thin eyebrows. I usually use
Gosh's Eyebrow Kit
- the medium colour is perfect for my eyebrows. I am not a fan of pencils for the eyebrow instead I much prefer using a brush. I've heard many rave reviews but am not in love with this product yet. The gel, on the left, is much darker than the powder and you cannot use it like the GOSH wax to just set your eyebrows. Instead you have to be much more careful with application. I will persevere, the little brush that comes with the product is perfect for eyebrows. I am on an eyebrow mission after falling in love with
these HD eyebrows
but obviously do not have the money to spend on even an eyebrow wax. (This ELF order was my last spend before realising I couldn't actually buy food)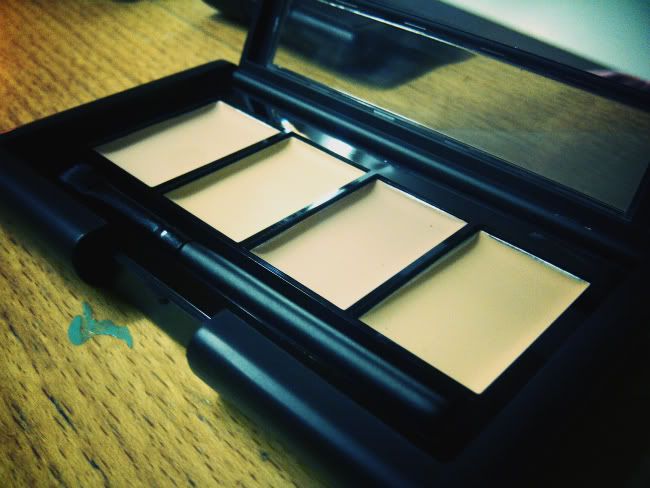 Lastly is the Complete Coverage Concealer. I currently use
Collection 2000 Lasting Perfection Concealer
which is amazing for the price. The Complete Coverage Concealer (mouthful much) has four different shades so you can find your perfect shade. The two darkest ones are however useless on my skin even mixed with the lighter ones. On the website it recommends you apply before foundation, I have always been taught to apply after but even following these instructions it is fairly drying on my skin. But the concealers are highly pigmented and almost cover my dark circles under my eye. But in all fairness I need something much stronger than a concealer to fix them.
Overall I love Complexion Perfection, in fact this is my second one after dropping my first and the powder broke up just leaving me with the green corner. I will persevere with the other two as I do see there positives. All in all I love ELF Studio products!
Zoey xox