Still on the hunt for the perfect foundation I stumbled accross
Vichy Dermablend
when watching Lisa Eldridge's
youtube video on covering acne
.You may have heard of Dermablend after watching the fabulous
"Go Beyond the Cover"
with the gorgeous Zombie Boy. The
Vichy Dermablend Corrective Foundation
promises to give "total coverage" with twice as much coverage as a traditional foundtion. So off I went to Boots and found the foundation amonst the skin care, the lightest shade is "Opal 15" which is a little darker than I usually go for but the model in Lisa Eldridge's video seemed to be of similar shade to my skin so bought it anyway!
I have been using Double Wear religiously, it's staying power is unbeatable. It can look a little cakey and of course causes serious
Ghost Face
. So how does it compare? Well the coverage is the same, you can either apply it as a concealer as in the youtube tutorial, or buff into the skin as with a normal foundation. It blends beautifully into the skin, you don't have to work as fast as you do with Double Wear. You can also build on the coverage easily without it going to cakey. Now the shade is a little darker than I am used to, however I have had more compliments on my skin looking healthier instead of being the same me colour as paper.
It is currently my go to foundation, my skin is worse than in the
Blemish Balms post
to give you some idea of what it is covering beneath!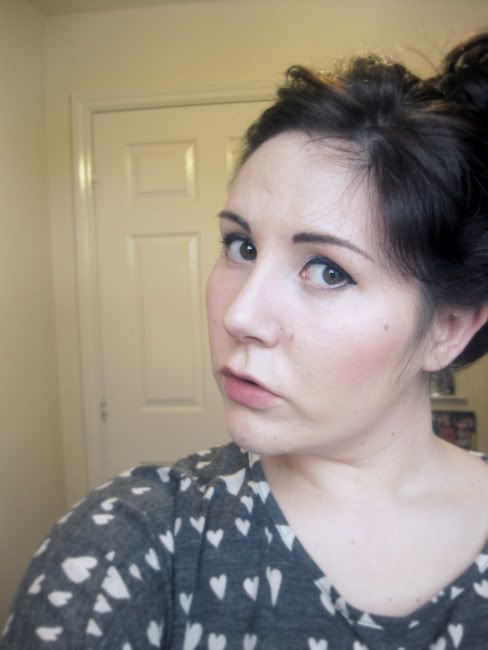 Without flash / With Flash
The flash photograph has no blush on for some reason, I took these photos as I was curling my hair so did my make-up in-between letting the curls set! I am pretty impressed with the foundation, it is aimed at people who feel the need to cover up blemishes / scars and does the job perfectly for me. At £15.50 it is more than your average high street foundation but still cheaper than a high end one. It works with my skin, which is oily in places and dry in others. However the limited choice of shades will put many people off. I do have to be extra careful to blend it into my neck so no clear foundation line, but with my normal pale powder on top it is fine.
Zoey xox