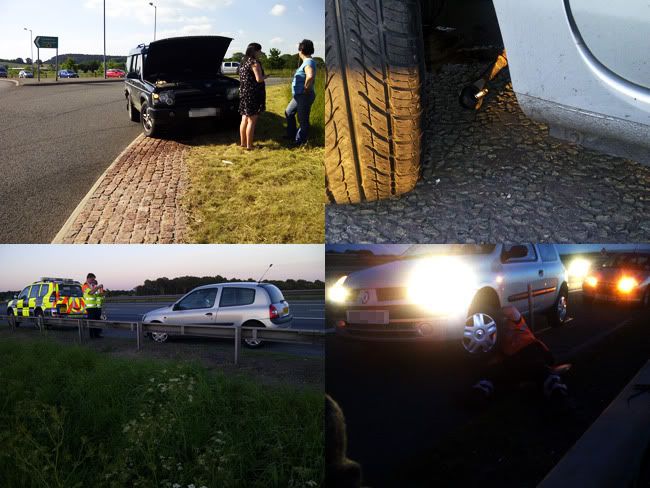 →
I've had a little bit of extra money so spoilt myself with the 3 for 2 on Models Own in Boot's. Why does my tiny home town have Models Own in Boot's but not Lancaster! Rubbish. But I love the "smash up" it goes on much better than the Barry M one and is a nice change to go back to the original black one! I've become very lazy and hardly painted my nails but will be putting some nice Sophie's Pink on my nails for work tonight
→ A small trip home was fun, wonderful fashion choices and got to sit around in my garden which is a novelty having no garden up here! I left work at 3am on the Wednesday and drove the 100 miles home getting there at 6am after a few stops as I was bored. Didn't go to sleep until 10pm that night, caffeine..!
→ The start of the car drama was driving back from shopping with my sister and mother, all of a sudden the car span around 4 times and ended up in the middle of a roundabout. No fun at all, thank god I wasn't driving. Turned out the engine was leaking diesel and covered the back tyres making them spin out.
→ Part two involved my stupid car. My car is usually well behaved and even if it/she has no official name, Clio Mia usually though, I do love it. However it failed its MOT on Thursday morning, after some repairs it passed again on Friday morning. No biggie. 40 miles into my trip back north the steering seemed really off, then when overtaking a lorry it suddenly swerved to the right. I somehow managed to get it back to the hard shoulder with no brakes on one side and no steering. I was shaking and crying yet managed to get out on the passenger side, try and kick the wheel back in so i could PUSH it completely onto the hard shoulder. (Think I was in shock at this point, I have not been eating my spinach) I won't bore you with the mechanical details but it was f-ed. The police dragged it further onto the hard shoulder and left me making daisy chains on the side of the road until the RAC turned up an hour later. My sister and mother had driven up the motorway to come and rescue me by then, they wonderfully drove me north to go to work while the RAC towed my car home.
→ Much thanks have to go my dear parents and sister for keeping me calm while I screamed down the phone. But also made me value having breakdown cover! Especially breakdown cover that will tow my car 50 miles to my home address rather than just some random garage as my friends did once. Hopefully I will get it back on Tuesday, though a 3 and a half hour train journey do separate us. It takes an hour and a half to drive, oh public transport.